History
Generations of Your Family Have Been Helped by Generations of Our Family
That's because we've been finding solutions for farmers since 1930, when Harry and Etta Yetter opened a small machine shop in rural Illinois. Customers came to us from all over the Midwest to buy our wheel cleaners that removed mud from metal tractor wheels.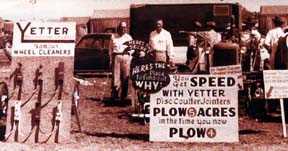 From there, we expanded our offerings over the years... and now we provide the full line of products you see today in this website.

We are still a family-owned business, now in the fourth generation. Yetter is the recognized national leader in direct-seeding and no-till technology.

We are focused on continuing as the leader in preparing the perfect seedbed with planter attachments, precision fertilizer placement and bulk seed handling solutions.

Each day, our team works with innovative farmers and other agribusinesses, answering the call for even more efficiency and cost effectiveness.